In July 2016 that we received an e-mail from a gentleman called Joe Rodrigues who lives in New Zealand. On our church website (www.stg.org.uk) he had seen one of the archive photographs of an Old St. George's Boys Brigade Summer Camp that took place in 1938. We replied to Joe to ask permission to edit and print his reminiscences and he was happy for us to do that.
Here is what he said:
I am one of the boys in the photo taken on the beach at Red Wharf Bay, Anglesey, where we were enjoying our annual camp.
I was a member of the 1st Stalybridge Boys' Brigade Company for five years in the early 1930s, commanded by Capt. Bert Wainwright. Other photos on your website show the Brigade on Church Parade etc. I also attended Old St.George's Church and Sunday School. I am now 95 and busy with my community work.
When I enlisted in the Royal Corps of Signals in 1939 at 18, my recruits training was made so much easier as I had a sound foundation to start with.I became a Commissioned Officer at 22 and took part in the D Day Normandy invasion in June 1944. After France had been liberated I was posted to 7th Armoured Division (Desert Rats). We went on to battle our way through Belgium, Holland and Germany until we captured Hamburg in early May 1945. After a few days rest we were selected to represent Britain in the four-power occupation of Berlin. I took part in the Victory Parade in July,1945.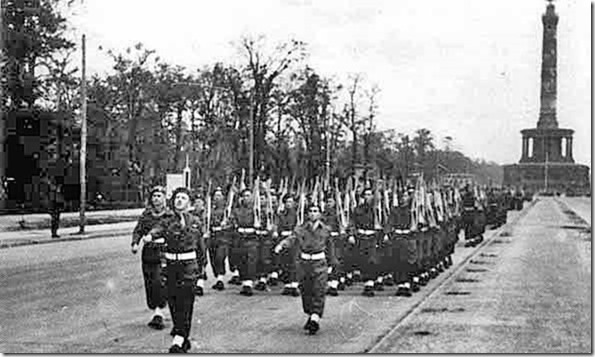 131st Brigade HQ and Signals Squadron marching towards the saluting dias, during Victory Parade. Leading this detachment is Captain Gordon Pelmore, R.Signals followed by Capt. Wadham and Lieut. J.F.C.(Joe) Rodrigues (centre of picture)
I have recently been advised by the British Government that I am to receive the Legion d'Honneur Medal from the French Government to mark the 70th Anniversary of D Day.
In 2016 I was awarded the Queen's Service Medal (QSM) in recognition of my 50 years community service in New Zealand. I recall that following the impressive formal part of the Investiture proceedings my family group of five were able to meet informally with the Governor-General and his wife in the Conservatory. After chatting for ten minutes or so the official photographer came in and took a very nice group photograph to mark the occasion.
In the Boys on the Beach photo I am the boy holding the legs of the boy behind me who has his left arm round the neck of Eric Norton. Eric and I have enjoyed regular correspondence over the past ten years until he died unexpectedly earlier this year at the age of 92. They have resided in Adelaide, South Australia for many years and have two sons both living nearby so his wife Jean has very good support. We keep in touch. Interestingly, Jean married Maurice Cook, another boy in the photo.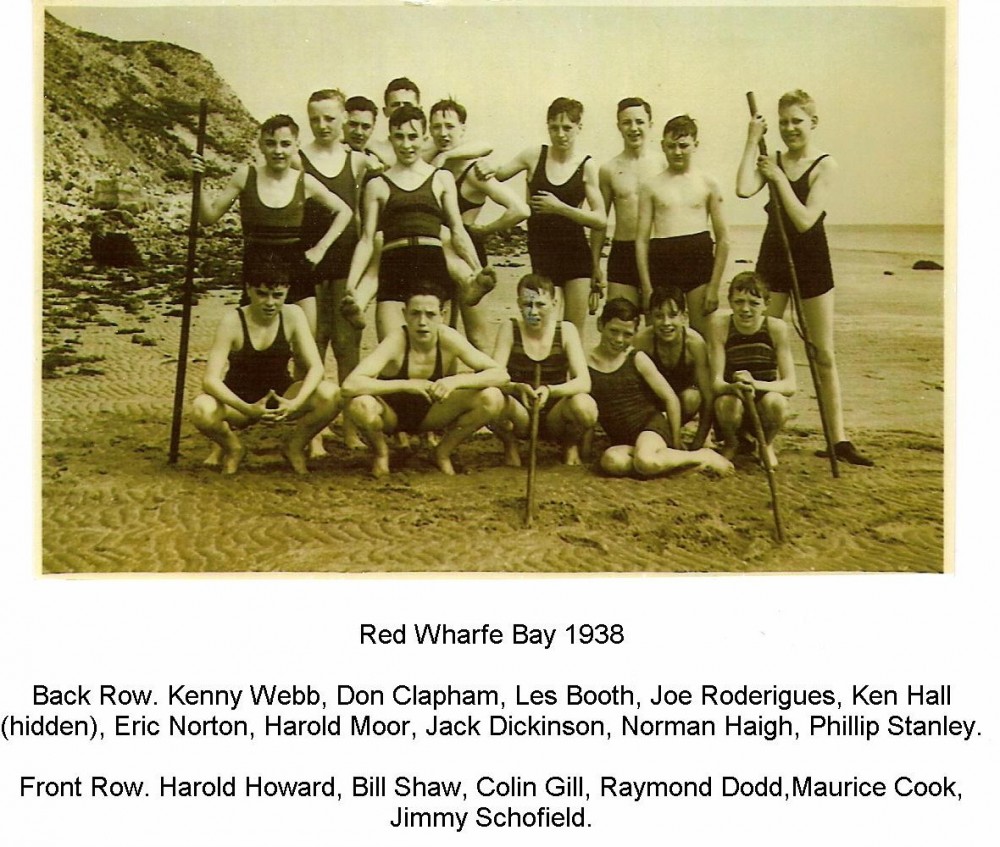 I myself am now well into my 96th year.
I just wanted to let you people know and thank you for the huge influence my association with Old St. George's and receiving my education at West Hill Boys School had on my young life. In my day the Vicar was the Reverend Whitehead who was very good and always came to Sunday School. I have listened to many of his sermons at Evensong usually seated in the front row upstairs at Old St. George's with my friends. Happy days !
With best wishes
Joe Rodrigues
Westown, New Plymouth 4310,
We wondered if any of our readers might remember him or some of the people he mentions as being members of Old St. George's Boys Brigade? The are more Boy's Brigade photos in our photo gallery.